There is much to look forward to in 2022, including new pairing menus, exciting wine releases, new events, and new team members. With our continued commitment to innovative, flavorful dishes that showcase the diversity of our Russian River Valley portfolio of wines, we are happy to welcome Chef Aaron Meneghelli as Executive Chef and Chef Forest Kellogg as Estate Chef.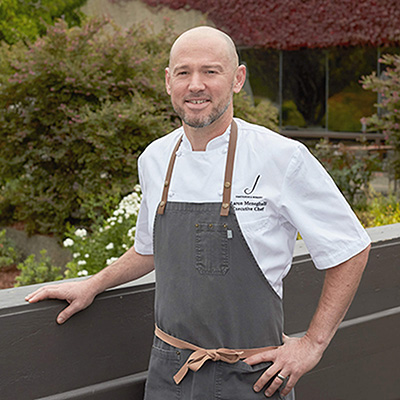 Born and raised in the Napa Valley, he has an inherent understanding of the local food and wine industry and brings with him a wealth of knowledge and expertise that will allow our wines to shine alongside innovative food offerings.
Prior to joining the J team, he worked under Chef Sarah Scott at Robert Mondavi Winery and with Chef Richard Reddington at his Yountville restaurants before joining Angèle in 2008 as Executive Chef, helping the latter earn its first Michelin Bib Gourmand. Following that, he had stints at The Carneros Inn in Sonoma as Executive Sous Chef and Calistoga Ranch as Executive Chef. In 2015, he joined Napa's Carneros Resort and Spa, rising in 2018 to Director of Food & Beverage for the estate's three restaurants, FARM at Carneros, Boon Fly Café and the Hilltop Dining Room, as well as overseeing the resort's culinary gardens.
His arrival to J marks an exciting new chapter for the winery. The Bubble Room reopened on September 24th with an elegant and inspired pairing menu that emphasizes fresh, local products and exquisite technique. In developing his menus, Chef Meneghelli begins with the wines, building flavors and textures within his dishes that showcase the nuances and structure of each wine pairing.
As a Sonoma County native, Chef Kellog is well-versed in the unique diversity of Sonoma County's agriculture and wine regions. He spent much of his childhood living and working on his family's sustainable farm in Cazadero, where he was introduced at an early age to the concept of farm to table. This began a lifelong passion for culinary exploration and artistry. Since then, he has worked in acclaimed restaurants across the country, most recently at Chalkboard in Healdsburg, California. Additionally, he has experience at the Timber Cove Resort and the Kendall-Jackson Wine Estate & Gardens in Sonoma County and at Cooks & Soldiers and Miller Union in Atlanta, Georgia. He also spent two years as a private chef in Hollywood, California. Throughout his career, Chef Kellog has earned a reputation for creating elegant dishes that are equally delicious and beautifully unpretentious.  At J Vineyards & Winery, Chef Forest is focused on creating the spectacular five-course tasting menus for The Bubble Room and artisan cheese pairing plates at the Legacy Lounge, working in collaboration with Winemaker Nicole Hitchcock to ensure each nuance is highlighted to maximize the guest experience.
WE LOOK FORWARD TO MEETING YOU AND HOPE TO SEE YOU SOON AT THE WINERY!